aor, 'a trinity of new things'. Either way I'm back on the blog since a very long time!
What have happened
Thanks for asking! since the last time I wrote I have done (you guessed it!) 3 things:
got a new job
got a new house – a farm actually
got a new car
all those things have taken a lot of time and one of the easiest things to cut back on if the electronics and the blogging. I know that I left a lot of you out there with the soldering pen project on the verge of taking off. I really hope that I can get back to working on it soon but please bear with me if it takes just a little while longer. Instead let me show you what I have used all my spare time on – Let's go through the list backwards.
The car
It's not new but it's related to the fact that I got a new job in may. I needed a car with a good mileage. I got this fancy little Polo which goes 30km on one litre of Diesel. well, that's what it says on the tin. in reality it's more like 20 to 25 but I'm still really pleased with it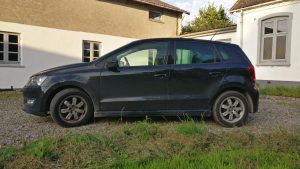 It's somewhat flawed because the guy I got it from told me that he had all the paperwork but when I asked to see it he couldn't produce any of it. the only thing I could do was to take it to a VW dealer to get a checkup AND change the timing belt since mysteriously the mileage which had been 290.xxx at the last service was now 237.xxx… I have later learned that more than my polo have experienced that issue. still weird though.
The house farm
This is a big one! We put the old house on sale in februray and had initially found a place we would like to renovate. The process was slow though and one evening Zenia found another farm which had previously been taken away from the market. it was now back since apparently the buyers didn't get the green light from the bank. Our luck!
We had to wait until our house was sold before we could close the deal but in the end we managed and on the 4th of july we started moving our stuff. It took around 20 trips with a VW transporter + trailer before we had cleared it all out. you know how hobbyists like to hoard junk, right 😉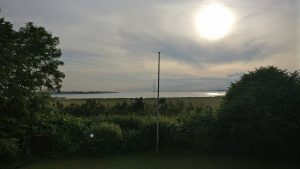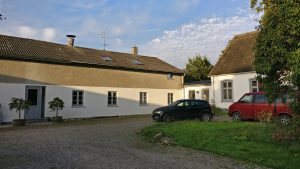 The picture doesn't serve the view justice. All I can say is that we now have 20.000 square meters of land right next to the water. Our own kitespot you say? Oh yes! 0xFred – if you come by let me know and I'll arrange something! we do have a lot of western winds here and the view is – you guessed it – to the west!
The rest of the farm is… huge.. I'm still settling in my new workshop. we have pooled the hobbies so my girlfriend and Ishare the shop. no problem with 60square meters! I'll get back to the shop in a later post.
The job
I really didn't see that one coming but when a friend of mine showed me a sign with a call for a 'versatile maker' I was sold. I mean, how many of you get to work full time with lasers and 3d-printers? then on top, education of aspiring young makers. this was my chance!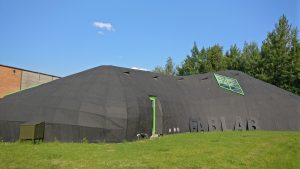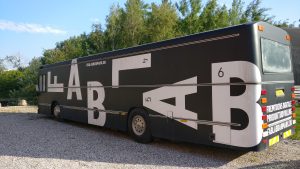 The fablab, called 'Fablab Danmark' was the first of its kind in Denmark – hence the name. we even have our own fablab bus! inside is a mobile fablab that can be taken out to schools around the region. How cool is that? We have a lot to work on so that's taking up an awful lot of time but it's worth it!
So there you have it – I'm still here and working. Just on a lot of project that you don't get to see that much. I really enjoy all your comments and I apprecieate that you take the time to write to me! Keep on doing that! I promise that I'm not stopping my own projects because of all this I just need to find the right time and place to do the work 🙂
Until next time – Keep safe and solder on!