I've completed the last part of the amplifier project. The 20W stereo amplifier board i tested – and works like a charm!
I discovered an error in the layout of the input stage having connected the feedback resistor to the input instead of the feedback pin. whoops, no sound through the left channel. luckily it was a very quick fix with only one track cut and a rotated cap. job done – now the amp is playing along very nicely!
I should do some real power testing to confirm the efficiency claims but I haven't got the time yet. Although I have some serious 4 and 8 ohm resistors laying arround (>300W power resistors). I might do that one day.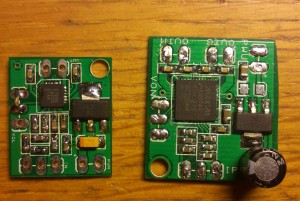 Just a nice quick picture for comparison. the weight? I should get a precision scale. The kitchen scale wont even register the small (10W). both combined is about 3g.. talk about a Power-to-Weight ratio that rocks!!