Okay – Still no makerslide. I'm told that they should be underway from the factory to the reseller so I'm really hoping for a birthday present!
Really – All I can do is wait for the parts to become available. So the project has been dormant for way too long. I have been thinking a lot about the electronics for the project but haven't decided anything yet.
Meanwhile I have done what I can. I've ordered some GT2 belts and a 40-tooth pulley from robotdigg.com. the largest belt they offer is 1350mm which is nowhere near the required length – I found out the hard way. however, they do offer a very nice 200 teeth belt – perfect for fitting the transmission between motor and one of the z-rods.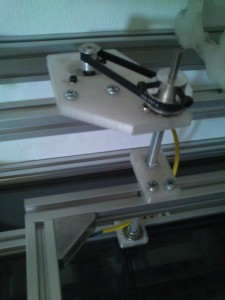 In the picture you can see the transmission. The motor has a 20-teeth pulley which gives a gearing ratio of 1:2. This means that I can control the height fairly precise. Would it possible to convert the mechanics to a 3d-printer as well? the electronics is more or less the same so why not?
So what did I end up with for the long belt? I tried my luck with splicing. The principle is surprisingly simple – just cut the belt at an angle and glue the ends together. the cut should be as long as possible to make the contact surface as large as possible. I just used normal super glue and it seems that some kind of vulcanizing process took place. The belt is just the right length (i thnk about 1600mm) and the single driven z-rod is now connected to the other 3. result: I now have a controllable z-table, cutting table!