So I got the extrusions last week. They've been sitting in the box they came in since then because I haven't had the time to do anything about it. Also, I didn't have any screws to build anything with.
Today I went to Bauhaus to see if I could get some of the parts from the parts list. I knew that Bauhaus would sell individual screws by weight so instead of having to order 100 or 200 of each type of screw I could probably get really close to the exact number I needed.
This is what I got:
| | | |
| --- | --- | --- |
| Screw | M5*10 | 200 |
| Screw | M5*16 | 100 |
| Screw | M5*25 | 8 |
| Screw | M5*30 | 7 |
| Screw | M5*35 (maybe 40) | 9 |
| Screw | M5*50 | 1 |
| Split Lock Washer | M5 | 10 |
| Nylon Locking Nut | M5 | 20 |
Around 130DKR for everything. It might not be the cheapest place but I could get those odd lengths in singles and I don't want to end up with 7 different boxes of screws that I don't have any use for (yet).
I couldn't resist but start a little on the frame yesterday evening. I assembled the frame ends: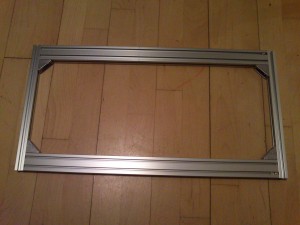 When looking for the first parts of the extrusions I figured that I had ordered the wrong parts. Luckily I had 'only' ordered the wrong type of extrusion (20*40 instead of 20*20) so the error was minimal. The end pieces will just be a bit beefier than expected. All in all the error has cost around 16€ – of course it was the only part that i needed 7 pieces of that I entered the wrong sizing for! well – you live, you learn, you pay.
So this was yesterday. I got some more time on my hands this evening so I wanted to see if I could assemble just a few more pieces. Following the CAD drawing and the assembly guide it took only 2,5 hours before the whole frame was finished! Wow, that was quicker than I ever imagined! I recall building my RepRap Mendel and how long that took. Evenings that went away with sanding down the pieces to make them fit. None of that here. The extrusions fit like a glove.
I'm pleasantly surprised about how little tension the T-nuts and the angle brackets require to grip firmly into the extrusions and to lock in.
Okay, you might want to see a picture of the framing as it is now. Here it is: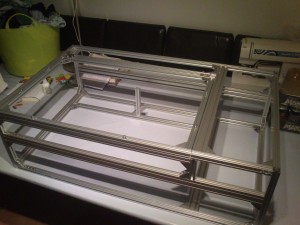 The frame in all its aluminium glory – complete with sewing machine and laundry. It's a lot bigger than I expected. I don't know why I didn't measure the pieces out before I started anything but then again – now it's here!
Now – what's next?
I have to order makerslides from makerslideeurope.com to finish the frame assembly. I'm ordering other bits and pieces when I see them but the biggest issue right now is to get the makerslides and parts to fit it. I'm hoping to see further progress in about two weeks time.