I've just started snowboarding. With spring and summer fast approaching the snow is quickly dripping away into drains everywhere. Some weeks ago we (my girlfriend and I) drove a couple of hours to find a spot to snowboard. After a couple of hours we were told that we could not ride anymore since we didn't have leashes. fair point. I researched.
it turns out that a snowboard leash is more expensive than I thought. I mean It's just a line and a buckle that connects the rider with the snowboard and in the event of an accident it makes sure that even if the rider get free from the bindings the board will not continue down the hill.
I went to the local crafts store and looked for a buckles and some webbing. did I find it? Yes!. look at this: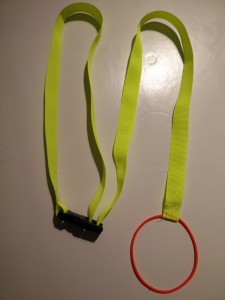 This is the most neon-yellow webbint I could find. Along with a buckle and an elastic peice of string that will attach to the binding. the webbing itself is 1m, which is slighty too long but it will work for now. the cost?
Buckle: 12DKR
Webbing: 13DKR /m
Elastic string: 13DKR /m
I bought 2 meters of webbing and made another leash for my girlfriend. Total cost was less than the price one single leash I could get from eBay. Not everything is too expensive to make on your own yet!